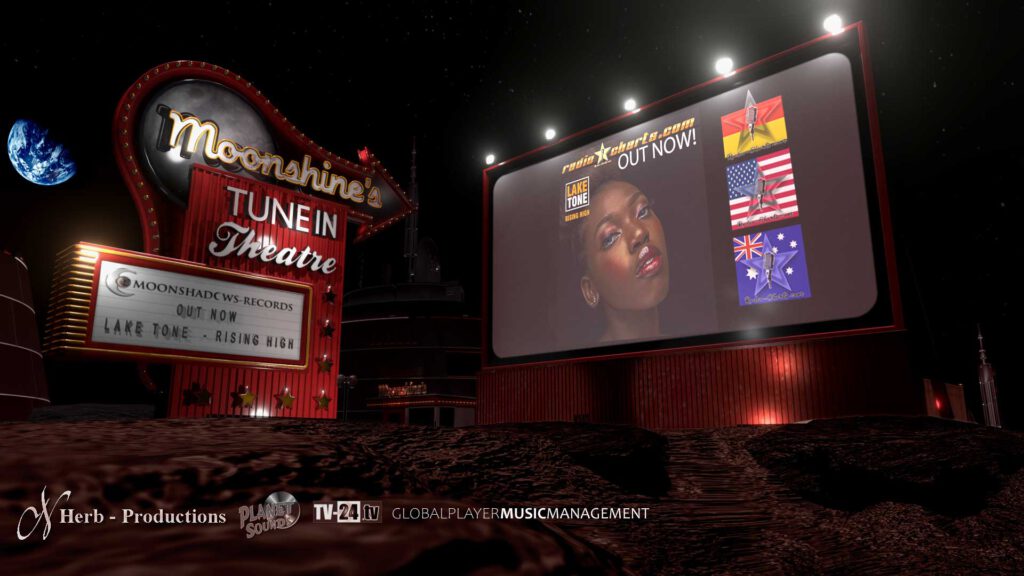 Global Player Music Management (by Nik Herb-Productions)
"OUR GOAL IN MUSIC" – "Charthits and more…"

www.radio-charts.com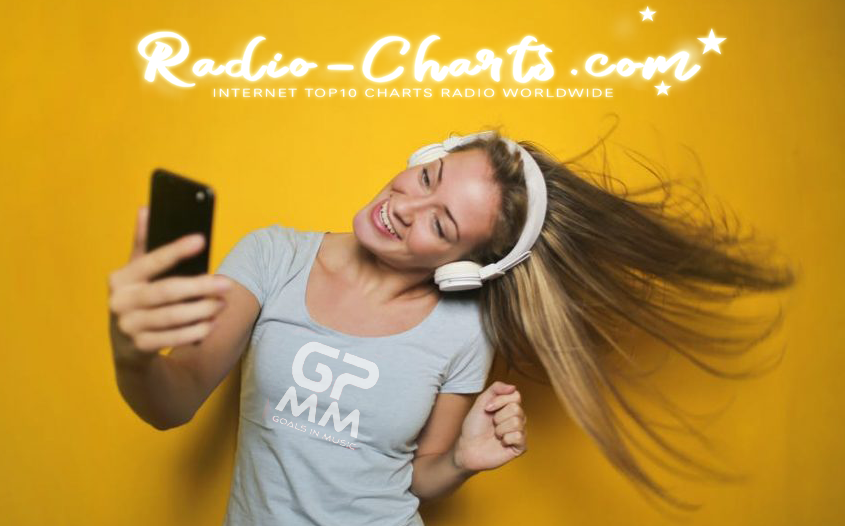 GLOBAL PLAYER MUSIC MANAGEMENT – BOOST YOUR ENTERTAINMENT
Global Player Music Management (GPMM) is a branch of Nik Herb-Productions & Moonshadows-Records which supports artists in managing and marketing their music worldwide. Our standard is proven "international" – in studio audioproductions, broadcast videoproductions, press, social medias bookings and showproductions a.s.o. Although GPMM is a startup, we can look at 25 years of experience in the international music and showbusiness. Further you can benefit from our 20 years experience in Broadcast Productions for Radio and TV Stations around the world. Sure we will find the right individual marketing-strategy to increase the chance of a national or international "Hit". We have the Know How to make this dream come true. With GPMM you get all in one. That is one of a kind and safes time and money. GPMM – WE BOOST YOUR ENTERTAINMENT

---
GPMM will speed up your career. Our claim is: BOOST YOUR ENTERTAINMENT. So whover is intersted in a hitproductionen – we will manage you "from zero to hero". We develope and define individual strategies in marketing for musicians, but also for influencer, sports/wo/men sponsors and investors (GLOBAL PLAYER) and increase fame and attention in Advertising-Media & Musicbusiness.
Professional Music-Consultings, soundtrack and compositions, vocal-coachings, studioproductions, modern arrangements, photoshootings, storyboards, 3D Animations, extraordinary videoclip-productions, internetpresentaions, presse & media support incl. Social Medias, shows, worldwide publishings, promotions in Radio/TV, streamings etc. whatever it is – we will define your individual "Goals In Music".
Musicwise we can easily compete with charthits and other "Global Playern" of the international music industry. Moonshadows by Nik Herb published already in the 90s albums and CD´s in USA, Asia and Europe. In the 2000´s he published the Paralympics Hymn of Salt Lake City (USA). Our recording.studio Plandet-Sounds is "State of the art" which fulfills all musical wishes.
Media and marketing-service is essential for Global Player Music Management. We develop strategies and storyboards for longlasting Social Media campagnes including viral charakter. Marketing Agent Carsten Brandt and Nik Herb are looking forward to succeeding an exciting partnership with you and your music. GPMM by Nik Herb-Productions +49-176 444 56500 info@herb-productions.de

Global Player Music Management Lyerics and compositions wirh Chart-Hit-character.
Although GPMM is a "Startup", we can look already at more than 25 years working in the show and musicbusiness. Pure experience – The founder Nik Herb is a German TV-Producer who worked already with a lot of interational stars, e.g. the most successful German Export rockband "SCORPIONS". His TV-Reportage was one of the first fully streamed documentation in the internet. Beside his media activities Nik Herb is a musician songwriter and composer with international experience – even as a wellknown Radio DJ or M.C. – He was honoured to present the MISS SWITZERLAND Contest as the first foreign host.
Meanwhile GPMM is concentrating on the Danceprojekt "McLarsky" which includes singers and rappers from England, Italy, India, Malaysia, Spain, Gernany Switzerland and Australia. GPMM is also supporting the blind singer Michael Haaga and his song "Stehe Auf" which is an hommage to Christian Eriksen and the danish footballteam which experienced a nightmare during the EURO 20 at the 12, of June. This event happend exactly on that day, when Michael Haaga was at the Planet Sounds Studio in South Germany for recording "Stand up".
The possibilities of GPMM is huge – With Moonshadows-Records, Herb-Productions, TV-24.tv, Action-Shot.pictures and the Planet-Sounds Studios we are able to give newcomer and artists the professional international touch, needed to play a role in the charts. All made by Herb-Productions (LFK mediaprices nomination for Jingles of Euro-3). Full service out of one hand safes time and money. GPMM is happy to boost your market value by managing your music to make it profitable. Contact: +49 176 444 56500 or +49 70070056500 info@herb-productions.de
"ON THE WAY TO THE TOP" where it all began…

(McLarsky 1993)
On the way to the top – was the first sporthitproduction fot the American Footballteam 89ers by McLarsky aka Nik Herb in the 90´s. In the 2000´s the GPMM founder was author or the Paralympics Hymne Production for Salt Lake City and composed till today 100s of melodies and Jingles for TV-Shows, Broadcasts and internationale commercials. Songs just like for Global Players e.g. Dominoes Pizza, Blockhouse or Intersport. Nik Herb´s crativity and marketingideas led to nominations and prices like the LEA PREIS BW (TOP10 Come Together Dance Together).

To combine sport and music is our vocation. To coach and support singer/songwriters, rappers, artists and musictalented sportsmen is our core, whick could increase the audiovisual entertainment, marketing value and fame. Our mareketingideas during the past 25 years of our partners is proven extraordinary – the songs were broadcast ON AIR in Radio and TV-Stations. We are proud to tell that our products acknowledged millions – even before the internet.
GPMM is even interesting for investors and sponsors (Global Player). Music itself is international – it doesn´t stop at borders – it is the multilingual communicator Nr.1 – A Hit unites the world! For further informations contact via eMail, whatsApp or phone:
+4917644456500 oder+49-700 70056500 info@herb-productions.de
Genre and style will be your idea – we wil adapt 100% to your visions including music and presentations. First we focus on your visions. After a brainstorm we will define your GOALS IN MUSIC. And then we start our creation factory. Within 14 days we will prepare already a draft version of your song – composed und written especially for your voice.
Pop, Rock, Dance, Rap, EDM, Soul, House, Trance, Hip, Hop, Trap, Ballads… all styles are welcome. Of course we will let you know, where we see the biggest chances and markets.
Music knowledge will be helpful, but is not essential. We will polish the styles not only of newcomers but also of professionals. Vocal Coachings during the recordings are anyway included – we do anything to reach the international standards and give your song the WOW-Effect!
Modern sounds and special-effects are for latest chartproductions helpful – sometimes necessary. Our producerteam of the Planet-Sounds Recordingstudio is alway Uptodate, has Grammy Winning Softwares and will lift you to a higher professional level. Our vocal-coachings are international and were presented at the Musikmesse Frankfurt on stage. We are producing in the moment with artist from England, India, Australia, Italy, Switzerland , Malaysia and Germany. We will be on your side from A-Z.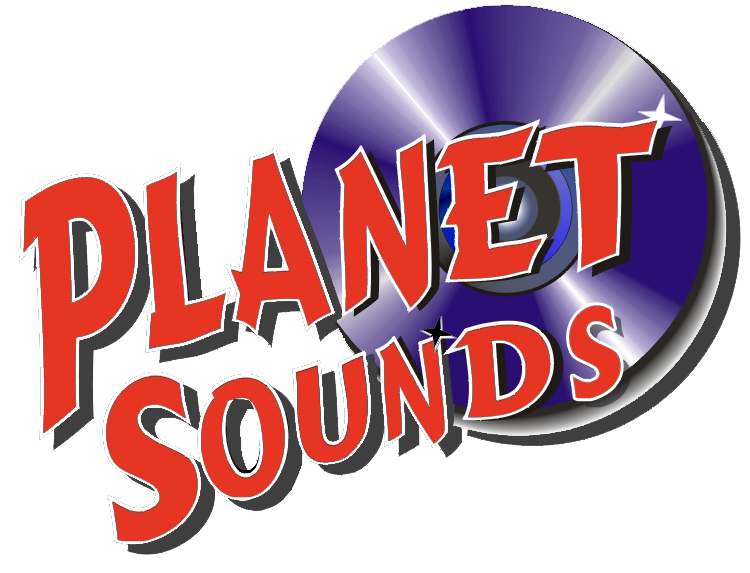 "NEW: During corona we testes our online recording format – and the results are astonishing. In other words – you don´t have to visit the studio for the recordings – We visit you! With our "Online Supervising" we are able to produce worldwide. A new standard of professional recordings. For this is further information required.

A good song and a perfect production needs time – by right a song has to be ripe to hit the market… depending on the style, it might take days… but usually it takes roughly one month. Firrst we produce a simple playback, then the voice… and then we start an extraordinary polishing and arrangement which is "One of a kind"- produced at the Planet-Sounds Studio. Moonshadows-Records will produce the mastering and publishes the songs at more than 100 streaming platforms world wide, including the most important Global Players. Parallel to the publishing we will work on the marketing and promotion activities. Our studiopartner: www.planet-sounds.de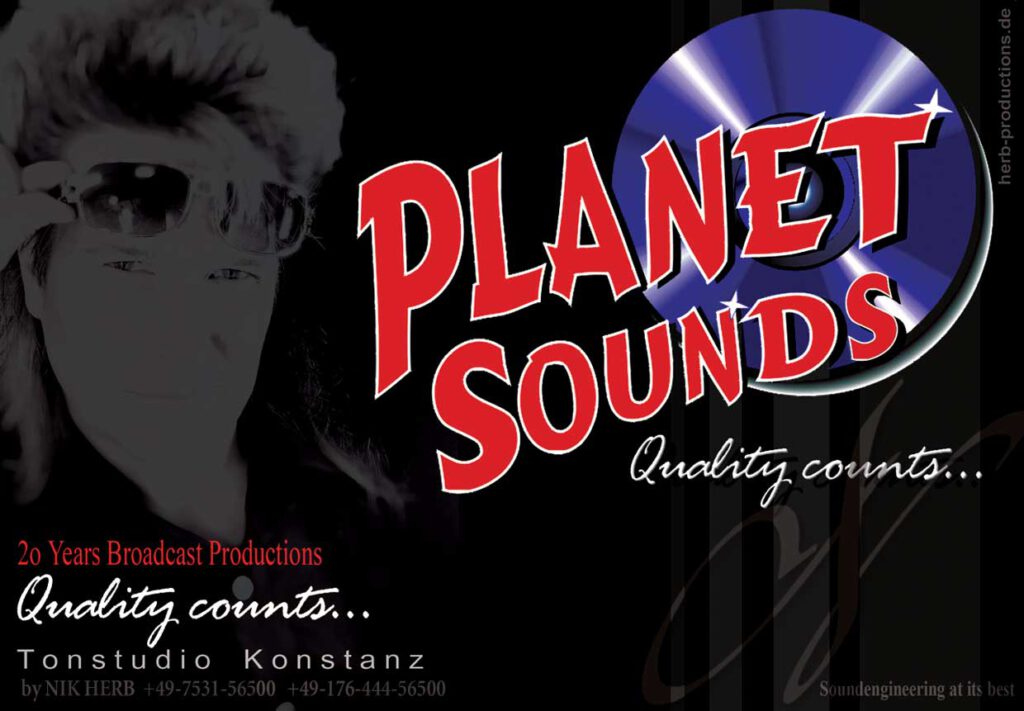 PLANET-SOUNDS – Quality Counts